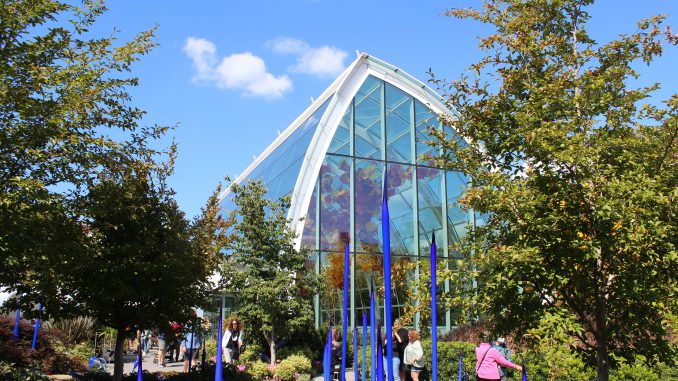 August 19 – 24, 2021
Seattle, WA
by Pat Donovan
US Navy Veteran, Author, Screenwriter, Poet
The Hollywood Times and AroundTown News Journalist
---
The Glass Museum and Space Needle
My mom came to visit in the middle of August and it was her first time in Washington State. She enjoyed her stay and we loved having here visit the family and the kids. We took her to the Concrete WA annual Cascade Days event, held for the first time after COVID.
Then, on the night before she left for Rochester, NY, she wanted to see the Chihuly Garden and Glass Museum and Space Needle, both of which I've never been to. Sort of like, living in Rochester, NY and never going to Niagara Falls, right?
Here's an image gallery of our visit and I hope, anytime you come to Seattle, you visit the Chihuly Garden and Glass Museum and Space Needle. Oh, yeah, the Space Needle has a glass FLOOR on the lower deck that rotates. If you don't like heights I don't suggest stopping on that floor.
About Dale Chihuly

---
Born in 1941 in Tacoma, Washington, Dale Chihuly was introduced to glass while studying interior design at the University of Washington. After graduating in 1965, Chihuly enrolled in the first glass program in the country, at the University of Wisconsin. He continued his studies at the Rhode Island School of Design (RISD), where he later established the glass program and taught for more than a decade.
In 1968, after receiving a Fulbright Fellowship, he went to work at the Venini glass factory in Venice. There he observed the team approach to blowing glass, which is critical to the way he works today. In 1971, Chihuly cofounded Pilchuck Glass School in Washington State. With this international glass center, Chihuly has led the avant-garde in the development of glass as a fine art.
His work is included in more than 200 museum collections worldwide. He has been the recipient of many awards, including twelve honorary doctorates and two fellowships from the National Endowment for the Arts.
Chihuly has created more than a dozen well-known series of works, among them, Cylinders and Baskets in the 1970s; Seaforms, Macchia, Venetians, and Persians in the 1980s; Niijima Floats and Chandeliers in the 1990s; and Fiori in the 2000s. He is also celebrated for large architectural installations. In 1986, he was honored with a solo exhibition, Dale Chihuly objets de verre, at the Musée des Arts Décoratifs, Palais du Louvre, in Paris. In 1995, he began Chihuly Over Venice, for which he created sculptures at glass factories in Finland, Ireland, and Mexico, then installed them over the canals and piazzas of Venice.
In 1999, Chihuly started an ambitious exhibition, Chihuly in the Light of Jerusalem; more than 1 million visitors attended the Tower of David Museum to view his installations. In 2001, the Victoria and Albert Museum in London curated the exhibition Chihuly at the V&A. Chihuly's lifelong fascination for glasshouses has grown into a series of exhibitions within botanical settings. His Garden Cycle began in 2001 at the Garfield Park Conservatory in Chicago. Chihuly exhibited at the Royal Botanic Gardens, Kew, near London, in 2005. Other major exhibition venues include the de Young Museum in San Francisco, in 2008; the Museum of Fine Arts, Boston, in 2011; and the Montreal Museum of Fine Arts in 2013. Chihuly Garden and Glass, a long-term exhibition, opened at Seattle Center in 2012.
---
About the Seattle Space Needle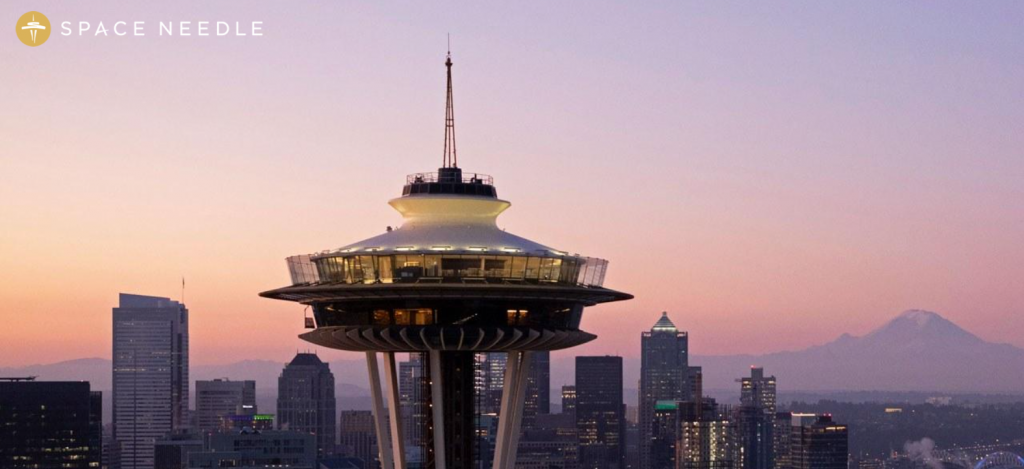 ---
The Seattle Space Needle is one of the most recognizable landmarks in the world and is a treasured Seattle icon. Built for the 1962 World's Fair—the Century 21 Exposition whose theme was "The Age of Space"—the tower's futuristic design was inspired by the idea that the fair needed a structure to symbolize humanity's Space Age aspirations. Since its grand opening on April 21, 1962, the landmark continues to symbolize the innovative and forward-thinking spirit of Seattle. Located at Seattle Center, the Space Needle stands at 605' tall and is one of the most photographed structures in the world.
The tower's 520' saucer-shaped "top house" offers visitors Seattle's only 360-degree indoor and outdoor panoramic views of downtown, Mount Rainier, Puget Sound, and the Cascades and Olympic mountain ranges.
To further elevate the visitor experience, the Space Needle embarked on a multi-year venture focused on the preservation and renovation of the 57-year-old icon. The first phase of the renovation, completed in late summer 2018, includes breathtaking, multi-level, floor-to-ceiling glass viewing experiences including an upper level outdoor observation deck with open-air glass walls and Skyriser glass benches. The Oculus, a grand wood, steel, and glass staircase connects the upper-level to The Loupe, the world's first, and only, rotating glass floor below. The new glass floor experience opened up a never-before-seen downward view of the structure and the surrounding area, putting Seattle, literally, at your feet. Visit the renovation page to learn more about how the Space Needle is further enhancing its visitor experience.
The Space Needle is proud to support local organizations who make a positive difference in the Puget Sound region through its community giving and engagement programs. Visit the Space Needle Foundation page to learn more about the Space Needle's community giving and guidelines.
---
About Deception Pass
Deception Pass is Washington's most-visited state park for a reason. Mysterious coves, rugged cliffs, jaw-dropping sunsets, and a stomach-dropping high bridge make this park a go-to for locals and international travelers alike.
Families can fish and swim in Cranberry Lake. Beach explorers look for shells along miles of Puget Sound beachfront. Hikers can trek through forests and out along bluffs. And birdwatchers fill their field guides with notes. You may see a whale or a family of seals as you gaze on the wild waters that once challenged early explorers.
Your inner explorer will delight in learning Civilian Conservation Corps (CCC) history at Bowman Bay. The CCC was Franklin D. Roosevelt's Depression-era "Tree Army;" it employed nearly 3 million men and built many of America's state and national parks. An extended stay at Deception Pass will have you peering into tide pools at Rosario Beach, boating at Cornet Bay, strolling on North and West beaches and gaping up at Hoypus Forest, one of Washington's largest remaining old-growth stands.
You, your family and your out-of-town guests will be awestruck by the area's beauty and history, and you'll soon be planning your return.
---
Now the gallery with my mom. All pictures are owned by Pat Donovan, © 2021, All rights reserved. Rights granted to AroundTown News and The Hollywood Times.
Deception Pass
Chihuly Garden and Glass
---
Seattle Space Needle
---
Links: