About Patrick Donovan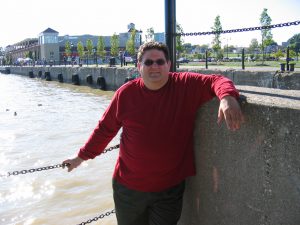 Patrick has been writing for The Hollywood Times for over 2 years now and has reviewed short films, indie films, books, and documentaries. Patrick has reviewed work for HBO, CBS All Access, ESPN Films, ID Discovery and more.  In an agreement with The Hollywood Times', publisher, Valerie Milano, has agreed to cross promote through Around Town News.  This is fantastic as the reputation of  The Hollywood Times precedes itself.
Patrick is a Sr. Software Engineer by day and writer by night. He's working on the sequel to FUTURECAST called Target of Darkness which eerily is similar to what's happening in our government today and he started writing that over 10 years ago. Here's the synopsis of FUTURECAST:
Harold Keeley, a television weatherman, stumbles onto a system to control the weather after his friend and business partner, who designed the system, mysteriously dies in a car accident. Unbeknownst to him, the system also has weapons applications, the development of which have been paid for by a power-hungry billionaire businessman, and supported at the highest levels of the U.S. government. When Keeley experiments with the system in order to increase his television ratings, the results are deadly and the ultimate ramifications threaten the very future of the earth. It is up to Keeley, a doomed NASA astronaut abandoned in space, and a former undercover operative, recalled to duty for one last mission to disable the system and remove the threat of an imminent planet-wide catastrophe.
Pat is also the driving force behind his Sci-Fi feature film: Project Abaddon: RISE OF THE DESTROYER. He visited with Warner Bros. Studios and met with the VP of Administration for WBTV on 31 Jan 2020 for over an hour and she is now introducing him to over four prolific producers. He has pitched to Paramount for Star Trek in the early part of the 2000's and to SONY Pictures for Abaddon.
Here's the log line for Project Abaddon.  It's been described as: Indiana Jones in Space by Skybound Entertainment.
In the year 2385, A.I. engineer and notorious recluse Ken Chiang discovers clues about the mysterious last mission of his late explorer father. He must join a crew of misfits and set off into unexplored regions of space to desperately search for an ancient alien artifact and destroy it, before it annihilates all life on Earth.
So, sit back and enjoy Reviews by Pat and don't forget to check out his debut novel: FUTURECAST on his website: PatrickDonovan.net and on Amazon and Kindle.  We hope you enjoy some of the reviews you'll see here and please we welcome your feedback and suggestions.